SilvaSolution Liquid Silver
by TriMedica
8 oz Liquid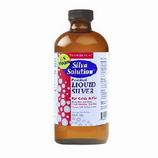 Regular Retail: $26.95
Our low price: $18.61
, 2 for
$36.24
, 6 for
$101.93
All Products by
TriMedica
Item #: VBD017776
UPC: 744665001094


Out Of Stock.
Description
SilvaSolution Liquid Silver
The Natural Healing Alternative!
SilvaSolution Soothes, Relieves & Aids:
Cold & Flu Symptoms!
Runny, Stuffy Nose!
Minor Sore Throats!
Minor Cough & Congestion!
Excess Phlegm!
Nausea & Night Sweats!
What Is SilvaSolution ?
SilvaSolution is a unique, proprietary blend of liquid silver plus powerful homeopathic medicines that provide an extraordinary natural treatment alternative for symptoms of colds and flu.
Silver has been used for many centuries for germ protection. Ancient civilizations used silver urns for water storage, because the silver kept the water pure and free of germs. American pioneers kept silver dollars in their milk supply to keep it fresh and germ-free. By 1940, there were numerous silver compounds on the market, several of which are still used medicinally today. SilvaSolution provides a potent form of microscopic silver in a purified, ozonated water base without the problems of particle fall-out or impurities found in other types of liquid silver.
How Does SilvaSolution Work?
SilvaSolution contains cold and flu fighting liquid silver (argentum metallicum) plus other powerful homeopathic medicines that are effective against cold and flu symptoms like runny or stuffy nose, headache, sore throat, cough, chills, night sweats, nausea and body aches. Unlike products that may destroy the natural balance in our bodies, SilvaSolution is an all-natural, side effect-free remedy. This is one of the reasons why SilvaSolution can be a perfect alternative or compliment to synthetic drug treatments. Plus, there are so many great SilvaSolution products to choose from for both internal and external treatments!
TriMedica's SilvaSolution comes in a variety of forms to provide benefits for many different types of health situations.
SilvaSolution Regular Strength Liquid Silver: – Use everyday for symptoms of minor colds and flu, sore throat, stuffy nose, headache, runny nose, nausea and cough symptoms.
SilvaSolution Super Strength Pro-50 Liquid Silver: – Use for more acute symptoms of colds and flu.
SilvaSolution Lozenges: – Take one lozenge every 2 to 3 hours for symptoms of colds, flu, sore throats, coughs, phlegm or simply as a convenient way to take SilvaSolution protection wherever you go. Take up to 6 lozenges per day. SilvaSolution Lozenges have been used with great success as a powerful supplement for increased immune strength for the winter season and any time you have a dry, sore throat.
SilvaSolution Spray: – Spray on affected area up to three times a day. Effective for swelling in the nose, sore throat, minor skin irritations, cracked sores and itchy skin.
SilvaSolution Salve: – Massage salve on skin up to three times a day. Helps eliminate dry, cracked, itchy skin, skin sores, joint pain and swelling, dryness of the skin, small and flat warts on hands, pains of the hands, boils, canker and lip sores, rashes and scabs.
SilvaSolution Lotion: – Rub lotion into skin several times a day. Effective for minor insect stings, hives, rashes, burns, cracked and itchy skin.
Enhanced Colloidal Silver Liquid. The Natural Alternative to Antibiotics. Independent laboratory tests show that TriMedica Colloidal Silver is the best you can buy, because it provides everything that doctors and researchers recommend:
1. Water Purity: Unlike other brands, we use only revitalized ozonated water which ensures maximum effectiveness and purity. Also, lab tests confirm zero silver precipitates which mean no potency fall out and longer shelf life.
2. Parts Per Million: Our 5-10 parts per million (ppm) of silver is considered the safest, most effective potency. Certificate of Analysis providing purity and quality provided upon request.
3. Particle Size: The smaller the silver particle size (0.001-0.004 microns or less), the more effective the pro
Note:
Product image may vary in look, size, quantity and/or flavor. It should only be used as a reference. Please check with the manufacturer for the most up-to-date product information. Although we try very hard to keep the product information up-to-date, occasionally, the manufacturer changes the name and the packaging of a product without notice.